TOUR ARCHIVE
2016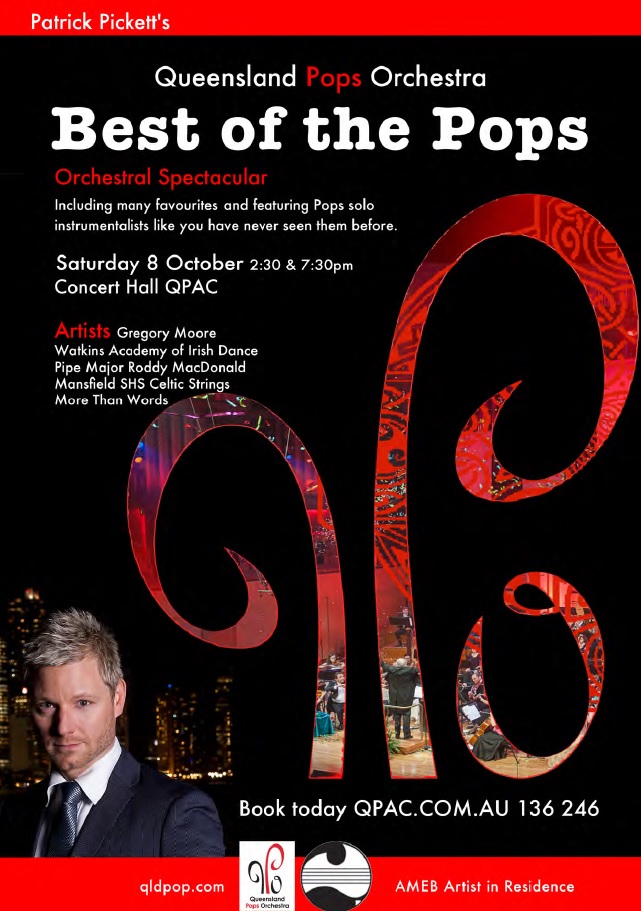 LORD MAYOR'S SENIORS GALA CABARET @ BRISBANE CITY HALL
SUNDAY 7TH AUGUST 2PM
Enjoy an afternoon with Brisbane's gifted seniors and celebrity guests including Simon Gallaher, Deborah Cheetham AO, Gregory Moore, Angela Toohey and more in Brisbane City Hall.
Doors open at 1pm. The $5 entry fee is a donation to the Lord Mayor's Charitable Trust.
For Bookings, click HERE.
SENIORS WEEK CONCERTS
On Friday August 19th, Gregory will be joining La Forza for a Morning Melodies show followed by an afternoon Duet Concert with beautiful Soprano, Ana Marina.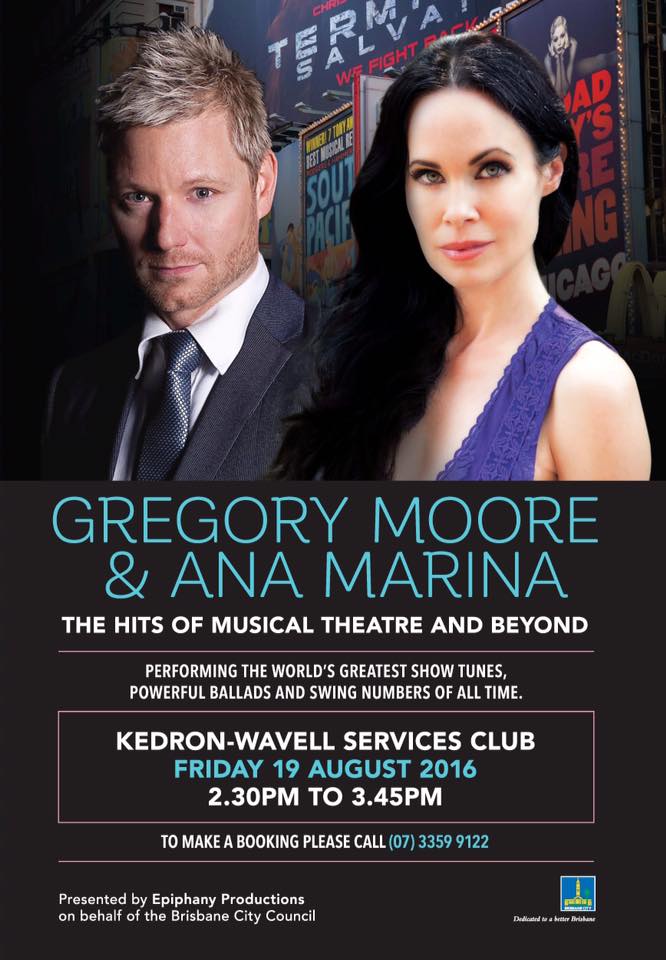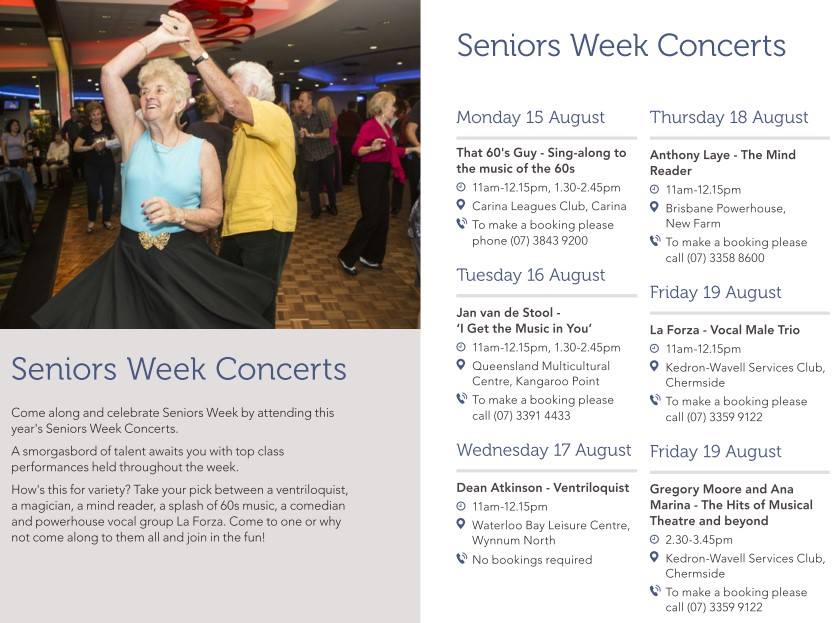 GREGORY MOORE TO RETURN TO THE CONCERT HALL STAGE WITH THE QUEENSLAND POPS ORCHESTRA!
BEST OF THE POPS
SATURDAY 8TH OCTOBER 2:30PM & 7:30PM
QPAC CONCERT HALL
For Bookings, click HERE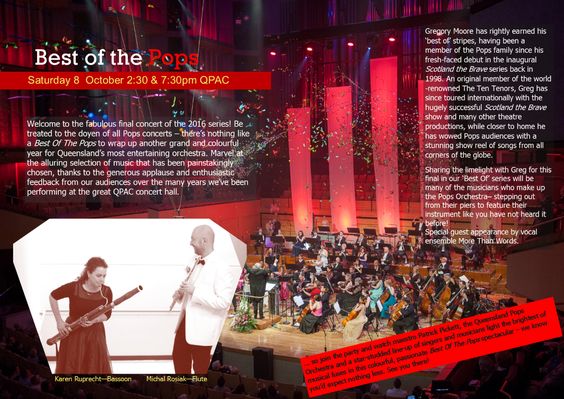 Welcome to the fabulous final concert of the 2016 series! Be treated to the doyen of all Pops concerts – there's nothing like aBest of The Pops to wrap up another grand and colourful year for Queensland's most entertaining orchestra. Marvel at the alluring selection of music that has been painstakingly chosen, thanks to the generous applause and enthusiastic feedback from our audiences over the many years we've been performing at the great QPAC Concert Hall.

Gregory Moore has rightly earned his 'best of' stripes, having been a member of the 'Pops family' since his fresh-faced debut in the inaugural Scotland the Brave series back in 1998. An original member of the world-renowned The Ten Tenors, Greg has since toured internationally with the hugely successful Scotland the Brave show and many other theatre productions, while closer to home he has wowed Pops audiences with a stunning show reel of songs from all corners of the globe.

Sharing the limelight with Greg for this final in our Best Of series will be many of the musicians who make up the Pops Orchestra – stepping out from their piers to feature their instrument like you have not heard it before! Playing music you know and love ... and perhaps a few new 'earworm' gems that you'll want to add to your list.

Special guest appearance by vocal ensemble More Than Words, a corporate vocal group handpicked from the Queensland Show Choir. Formed only last year, they sing a wide variety of genres and styles, from The Beatles to Buble. Their unique harmonies and vocal abilities will add an unforgettable moment to the program.

Be assured this is a show not to be missed!

So join the party and watch maestro Patrick Pickett, the Queensland Pops Orchestra and a star-studded line-up of singers and musicians light the brightest of musical fuses in this colourful, passionate Best of The Pops spectacular – we know you'd expect nothing less. See you there!
Christmas 2015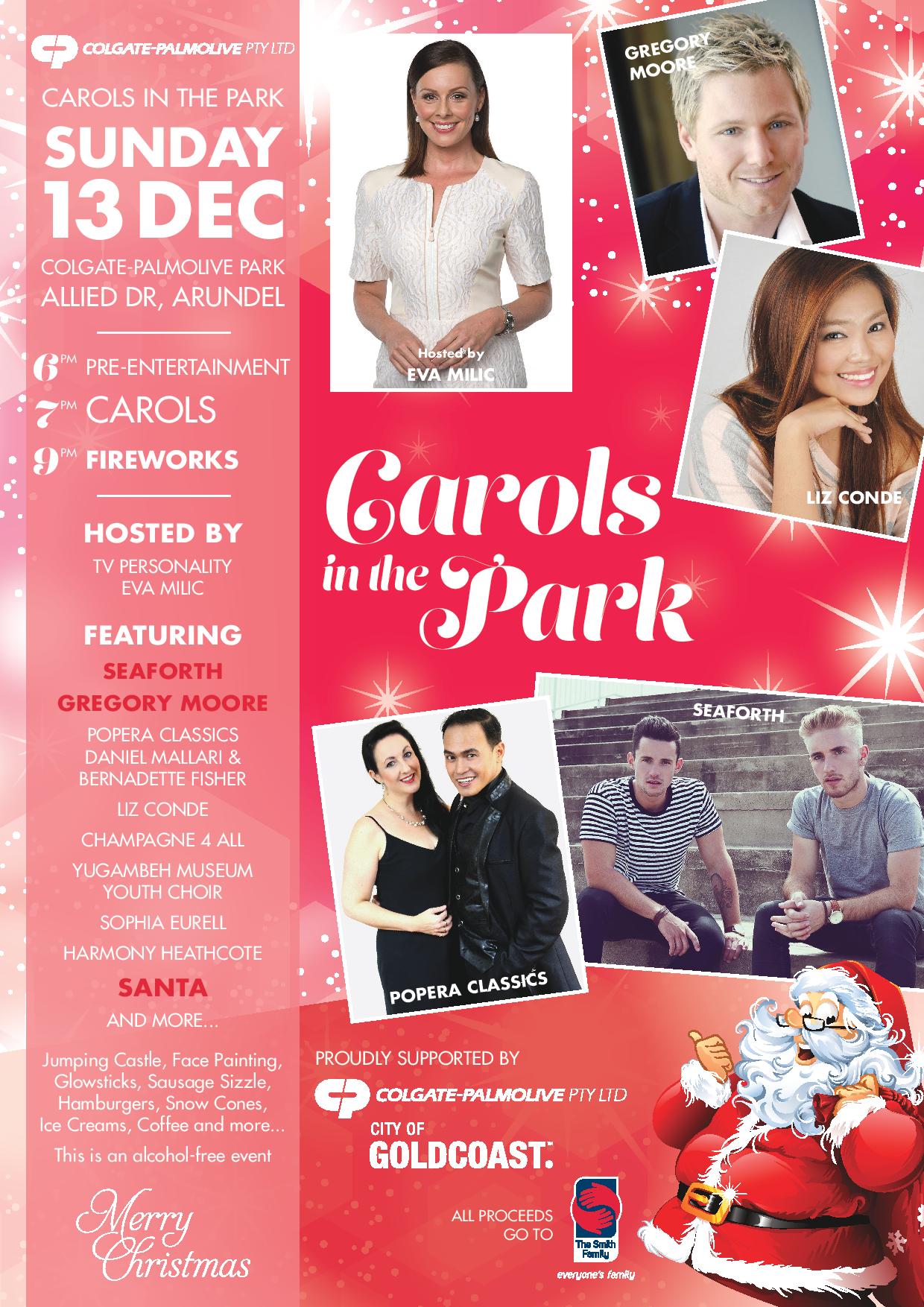 QLD POPS ORCHESTRA 'A CELTIC GATHERING'!
Having made his solo career debut with The QLD Pops Orchestra back in 1998, Gregory is thrilled to be back strutting the stage in his kilt with long time friend & colleague Lisa Bell & Conductor Patrick Pickett. With stirring Bagpipes, the color and flare from the Celtic Dancers and timeless classics, this concert is certainly not to be missed!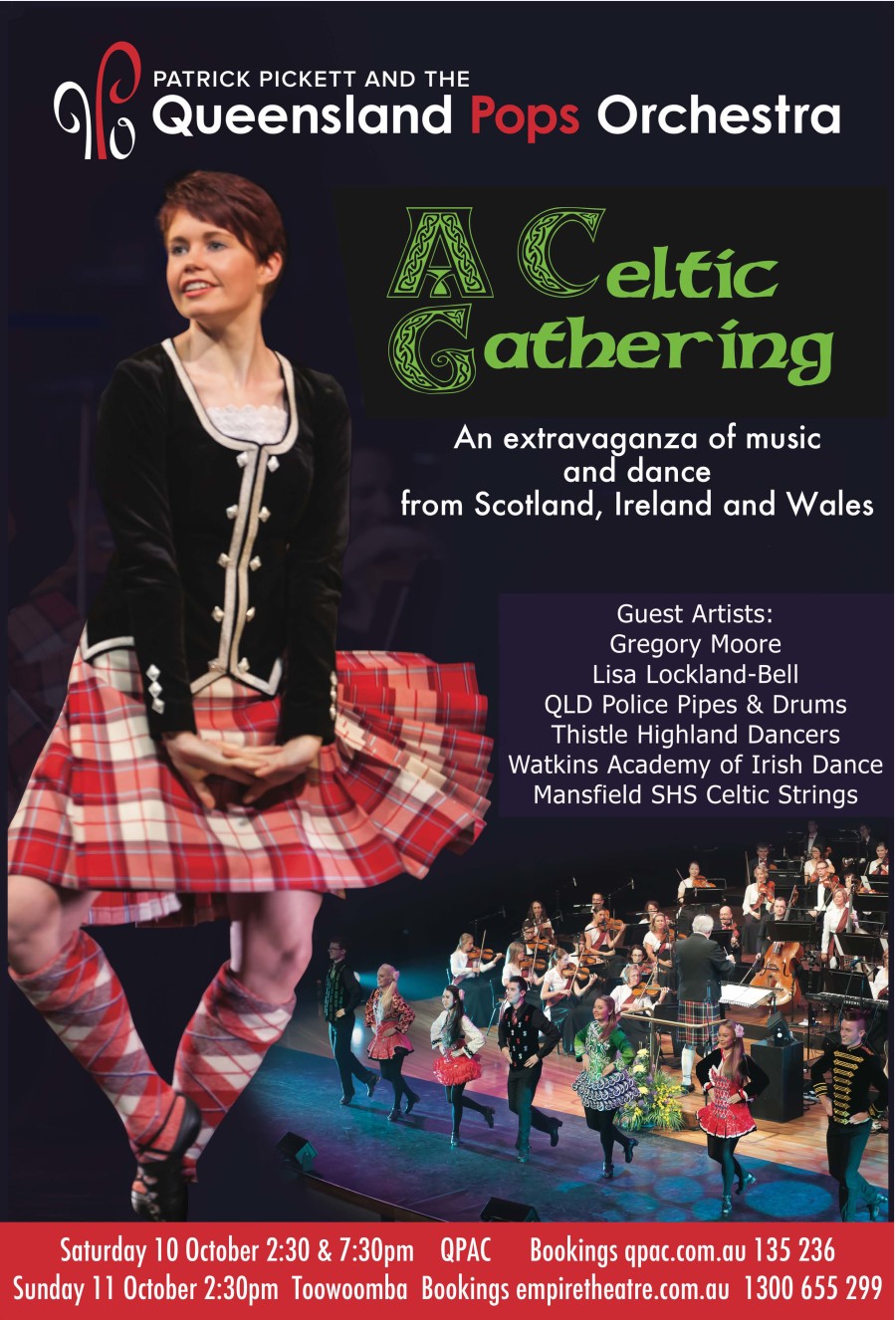 2014

2013 Performance Dates
CHRISTMAS 2013
To celebrate the Festive Season this year, I am thrilled to announce that I will be appearing at the following Christmas Events and Carols by Candelight.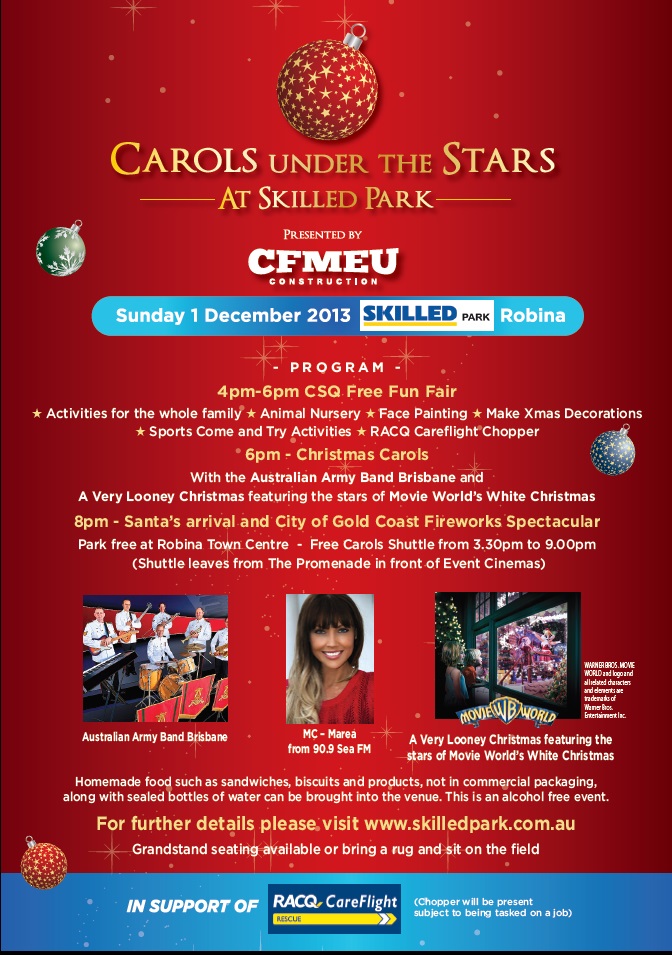 Friday December 6th

TWIGHLIGHT CAROLS at GOVERNMENT HOUSE - With The Australian Army Band Brisbane
With Special Guests Gregory Moore & Simone Dew

*please note that this event is by invitation only and not open to the general public*



Saturday December 14th

IGA LORD MAYORS CAROLS IN THE CITY - Featuring LA FORZA (Greg, Paul & Tod)
http://carolsinthecity.com.au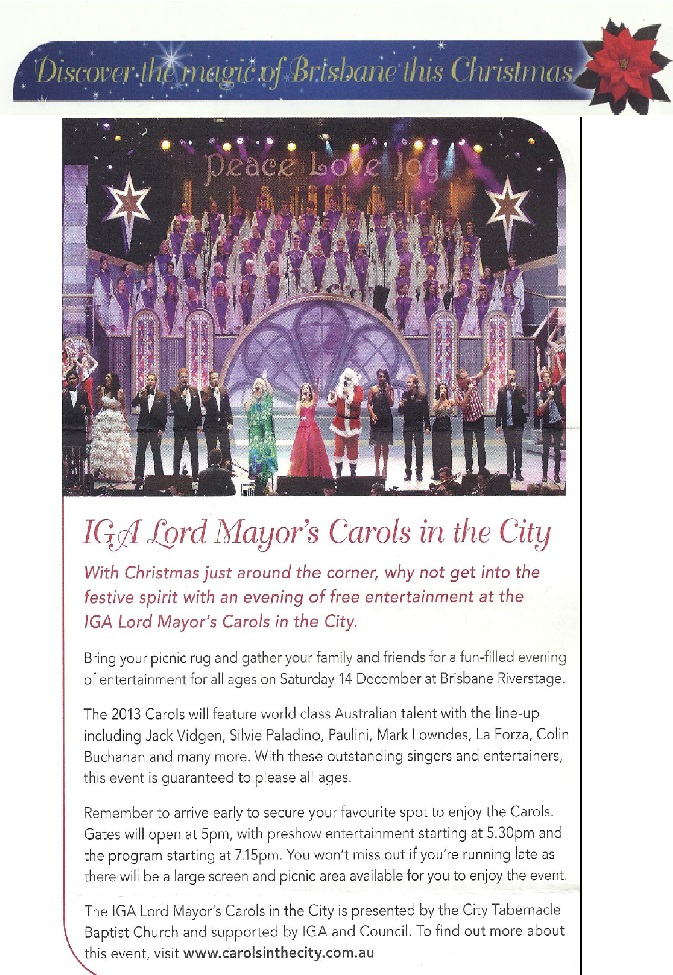 Sunday December 15th

Colgate-Palmolive Carols - Gold Coast

Don't Miss this special Concert celebrating all things Italian when Gregory joins the stage with The Queensland Pops Orchestra, his mates from La Forza and Ana-Maria La Spina. This is just one of the exciting concerts that Gregory will be performing in leading up to the end of the year. Stay tuned for more details soon!

Mother's Day High Tea at the Lyrebird
Gregory will be joining the boys of La Forza for this special Mother's Day treat. Come along for and spoil your Mum this Mother's Day!
Mothers -- they nurture us, they look out for us, they sometimes frustrate us -- and Mother's Day is a special opportunity to show appreciation to our mothers and mother figures.
This year we are encouraging all daughters, mothers and grandmothers to celebrate this special day together with a luscious High Tea in the Lyrebird Restaurant, QPAC.
With a glass of bubbles on arrival, you and your Mum will enjoy ribbon sandwiches, savouries, cakes and other treats, along with lucky door prizes and much more!
Featuring performances by acclaimed Brisbane pianist Dave Spicer, with a special guest performance by cosmopolitan pop group, La Forza -- one of Australasia's hottest and most vocally powerful new acts.
La Forza blends together the talents of some of Australia and New Zealand's top professional vocalists, who have performed throughout London's West End, Europe, USA, South Africa, Australia, New Zealand, Canada and Asia. Performing spine tingling renditions of modern day classics from the likes Josh Groban, Il Divo, Andrea Bocelli and Michael Bublé, as well as some Rat Pack standards, La Forza exudes class and pure vocal power.
'It's a winning formula: great voices, excellent stage presence... and a wonderful combination of exquisite and powerful ballads.' -- Otago Daily Times, New Zealand
Celebrate this Mother's Day in style at QPAC.
Date: Sunday 12 May 2013
Time: 11.30am
Duration: 2 hours
Venue: Lyrebird Restaurant
Ticket Price: $79
****************************************************************************************************************************************************
When visiting relatives in the UK this coming July, Gregory will present a very special ONE night only Concert in Christchurch, Dorset in the South of England. With his very talented cousin Abigail Cole as special guest, a live band and a special appearance on stage by Gregory's equally talented brother Graham Moore! This will be a night to be missed!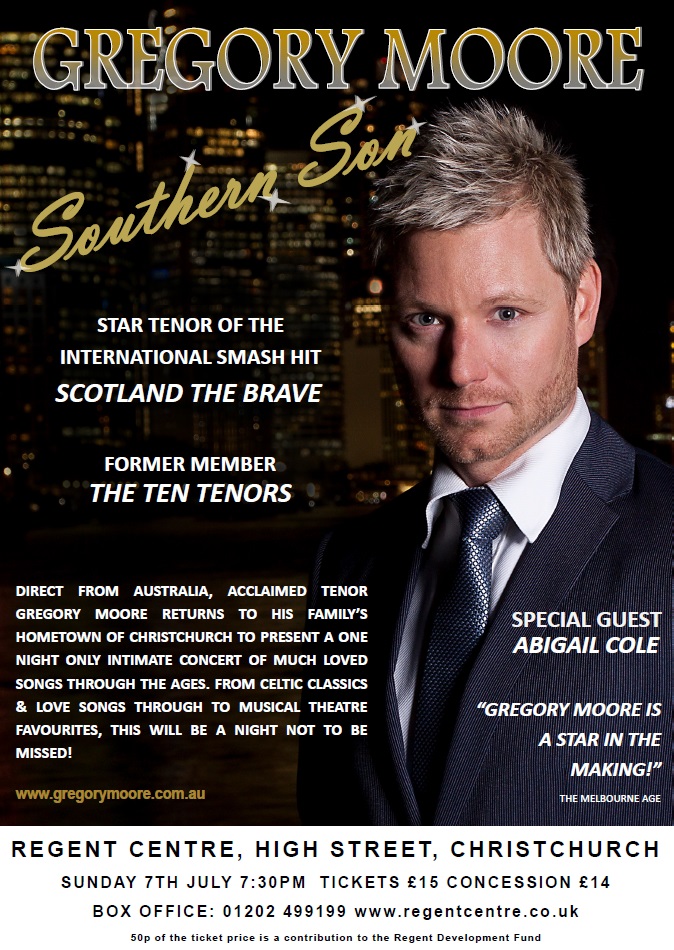 *******************************************************************************************************************************************************
Gregory to reunite with LA FORZA!
Gregory is thrilled to once again team up with the boys from La Forza to perform in some fun gigs here in Australia & abroad including some cruises through the South Pacific, NZ & Australasia!
Gregory will be performing with good friend Pete Illa in an intimate concert at Cafe Mila in Cleveland, QLD.
'So Pete makes your coffee, but can he sing? Come and find out when Internationally Acclaimed Tenor Gregory Moore and your Coffee Making King, Pete, sing at Cafe Mila'!

Tickets are $40 and include - Concert, dinner, dessert, a coffee and corkage (Café Mila is BYO) Book by calling Café Mila on (07) 3207 2714
Shop 12 677-685 Old Cleveland Road East, Wellington Point, QLD 4160
Friday 5th April 2013 6:30pm
****************************************************************************************************************************************************
Gregory will make a special guest appearance at "THE MAGIC OF MUSIC" Concert at the Cleveland Uniting Church on Sunday 7th April 2013 at 2:00PM
ADULTS: $20
CONCESSION: $15
For bookings, Please contact the Church Administration Office on 07 3286 5627
Proceeds from this concert will go to the QLD Rural Fire Brigade Services, Heart Kids Foundation and Programs For Needy Children
2012 Performance Dates
Mursia Home Tour 2012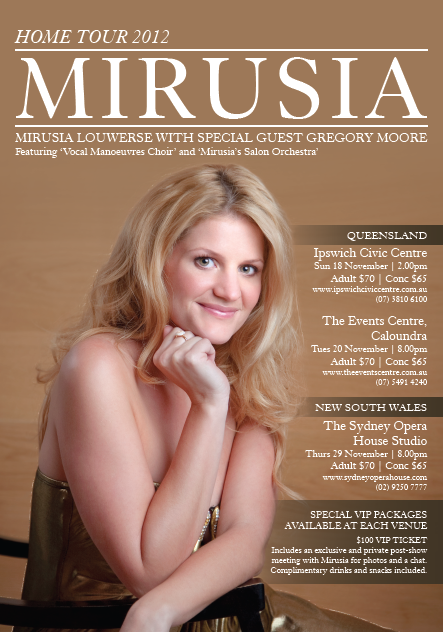 Gregory to reunite with LA FORZA!
Gregory is thrilled to once again team up with the boys from La Forza to perform in some fun gigs here in Australia & abroad including some cruises through the South Pacific in December!
In particular you can catch Gregory & the Boys at:
'CHRISTMAS BY THE SEA 2012'
TWIGHLIGHT CAROLS & CHRISTMAS SHOW – SATURDAY 1ST DEC @ 5PM
Scarborough Beach Park - Landsborough Avenue, Scarborough, Redcliffe, QLD
For More Details, please visit: http://www.moretonbay.qld.gov.au/general.aspx?id=74713
Gregory will be returning to his old stomping ground to perform at this festive event!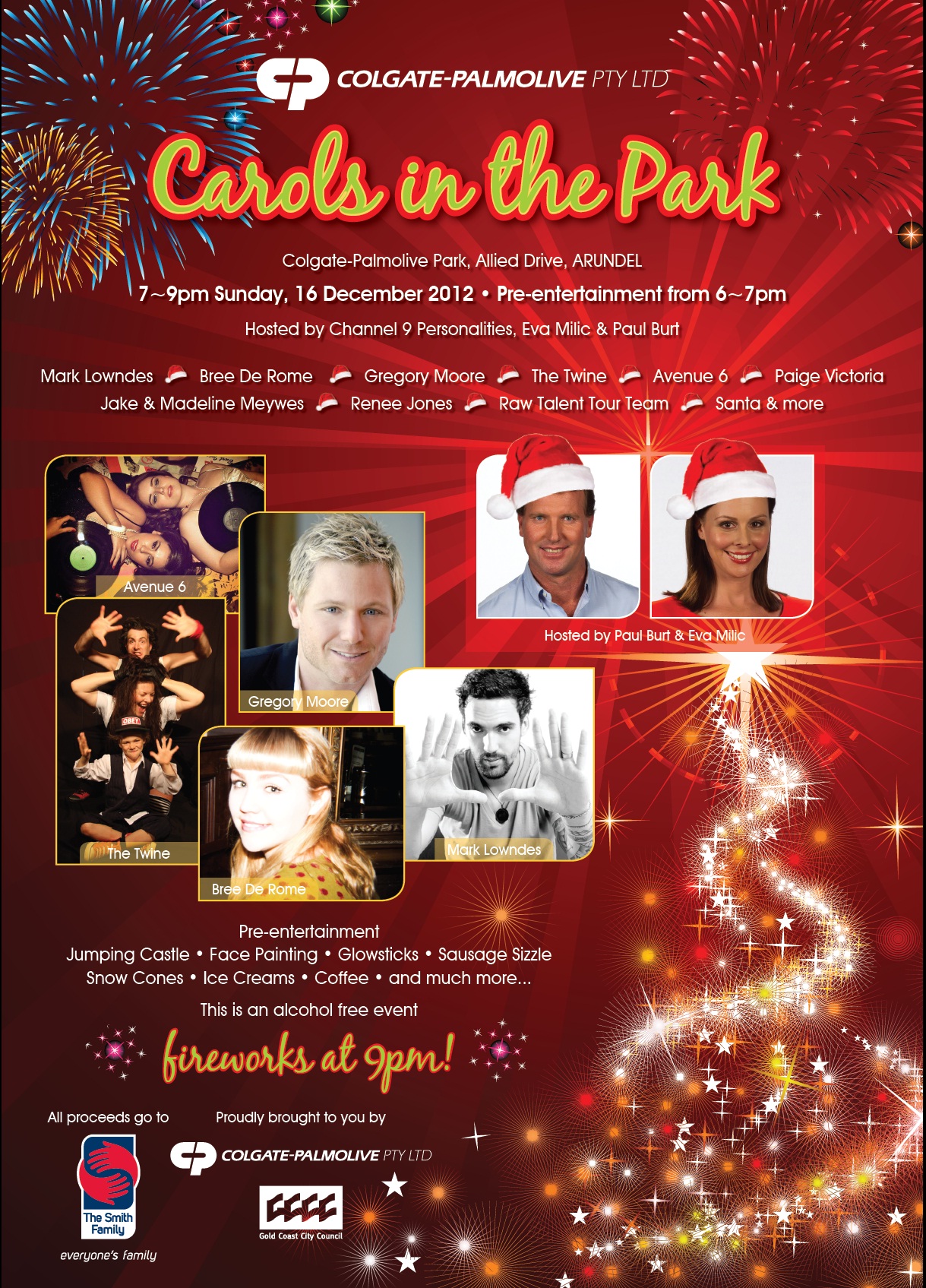 Army Band Christmas
Greg will be joining the Australian Army Band Brisbane for the Governor's Carols by Candelight at Government House in Brisbane on Friday December 7th.

This event is INVITATION ONLY
2012 DINNER WITH THE STARS!
Well folks, it's on again! The 2012 Dinner with the Stars helping to raise funds for the Mater Childrens Hospital. Gregory, his brother Graham and lovely wife Venessa, will become the THREE - A - MOORE - AYS and will help you dance the night away. The evening is always a lot of fun with money raised going to a fantastic cause.
This is an evening not to be missed! To avoid disapointment, make sure you get your tickets now!! www.materfoundation.org.au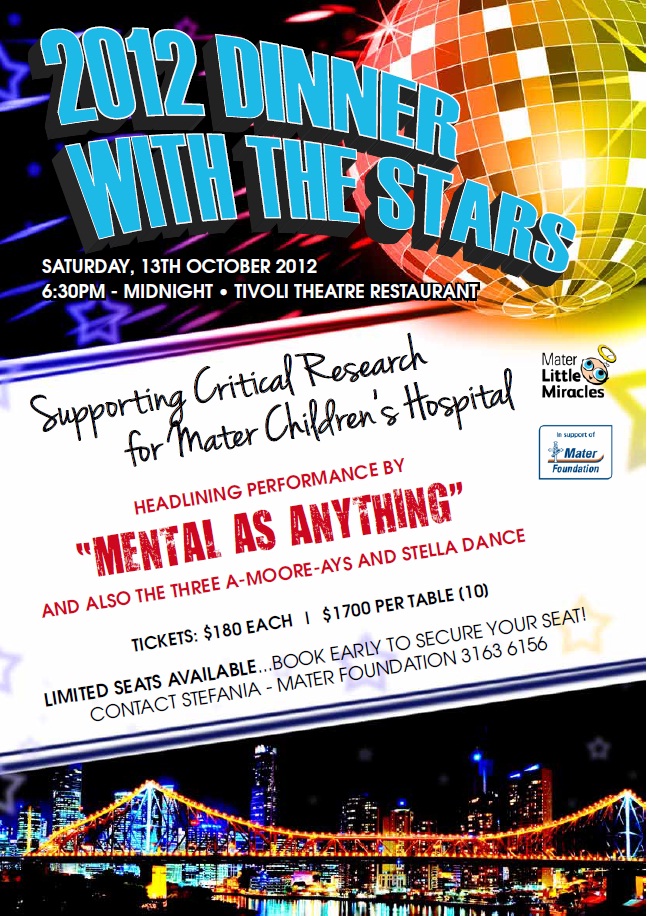 Senior's Superstar is in full swing!
I am very pleased to announce that I will once again be judging the following heats: 1, 3 and Semi Final 1 for Senior's Superstar Brisbane 2012! I will also be appearing at the Grand Final at the Concert Hall!
Check out their calendar of dates and come along to the heats and finals and be thouroughly entertained!! seniorsuperstar.com
Heat 1
Sunday 1st July, 2pm
Geebung-Zillmere RSL Club
Newman Road and Collings Street, Geebung
Heat 2
Sunday 8th July, 2pm
Wynnum RSL


174 Tingal Road, Wynnum
Heat 3
Sunday 15th July, 2pm
Sherwood Services Club
Cnr Browne and Clewley Street, Corinda
Heat 4
Sunday 22nd July, 2pm
Coorparoo RSL
45 Holdsworth Street, Coorparoo
Semi Final
Sunday 29 July, 1:30pm
Broncos Leagues Club
98 Fulcher Road, Red Hill
Semi Final
Sunday 5th August, 1:30pm
Souths Acacia Leagues Club
Mortimer Road, Acacia Ridge
Grand Final
Sunday 26 August, 1.30pm
QPAC Concert Hall
Cnr Grey and Melbourne Streets, South Bank
CHICKS IN PINK
Come along and see Gregory perform at this wonderful event and help raise funds for this very worthy cause!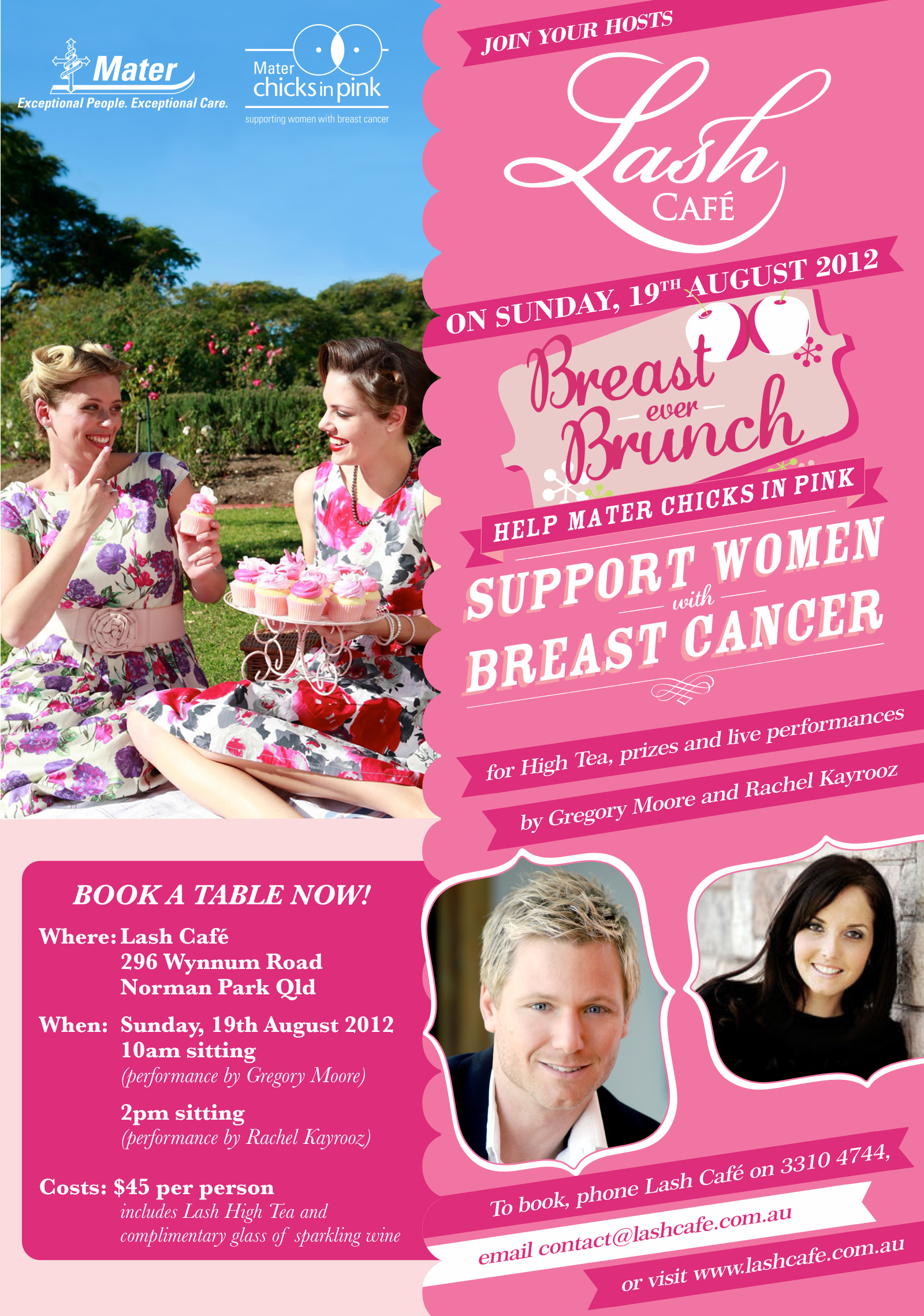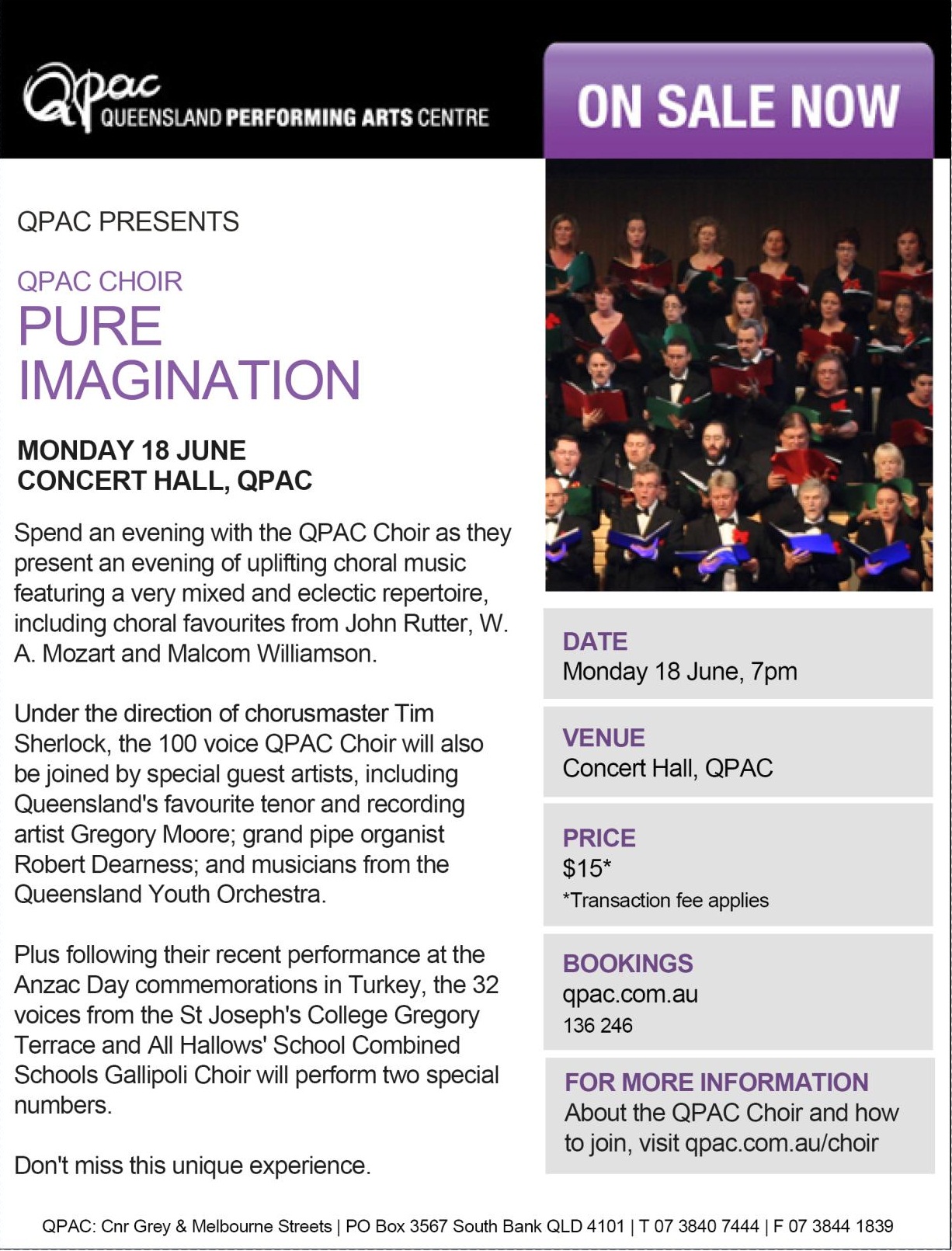 Special Mother's Day Concert Announced!
If your Mother is Special (like mine is) then bring her along for an amazing Mother Day Lunch at Stockholm Syndrome followed by a Mothers Day Show designed especially for her ! Tickets on sale now ! 07 3262 3738 http://stockholmsyndrome.com.au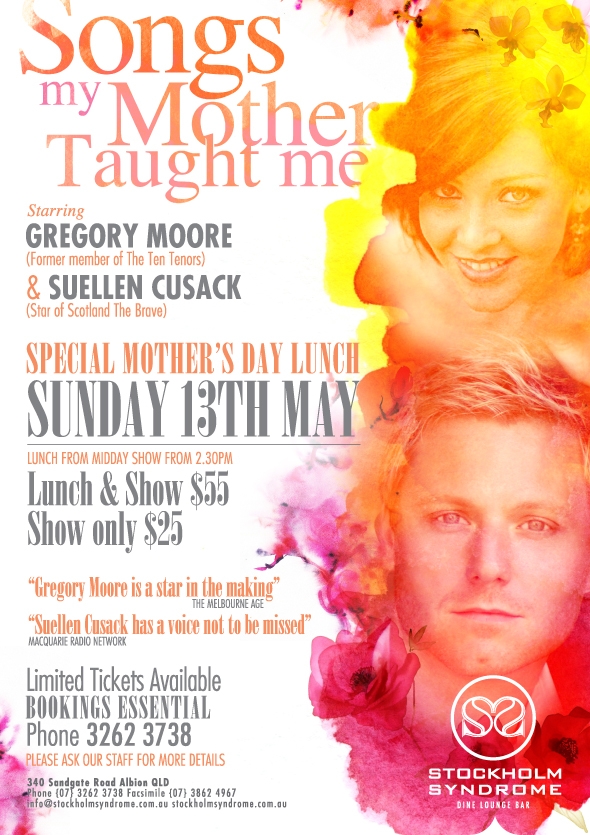 SENIOR'S IN THE SUBURBS
Greg Moore Productions is proud to announce TWO FOR THE ROAD a FREE concert series sponsored by Brisbane City Council Creative Communities.
Concert Date & Venues:
Wednesday June 6th @ South's Acacia Ridge (morning Tea @10:30am)

Thursday June 7th @ Geebung Zilmere RSL

Friday June 8th @ Broncos Leagues Club
The concert will feature all local artists including Tenor Gregory Moore, Soprano Suellen Cusack accompanied by Dave Mibus on Piano and Benjamin Greaves on Violin, performing songs from the Opera and Musical Theatre Stage, classic tunes and songs of faith, hope and inspiration!
Shows start at 11am and run for 90 min with no interval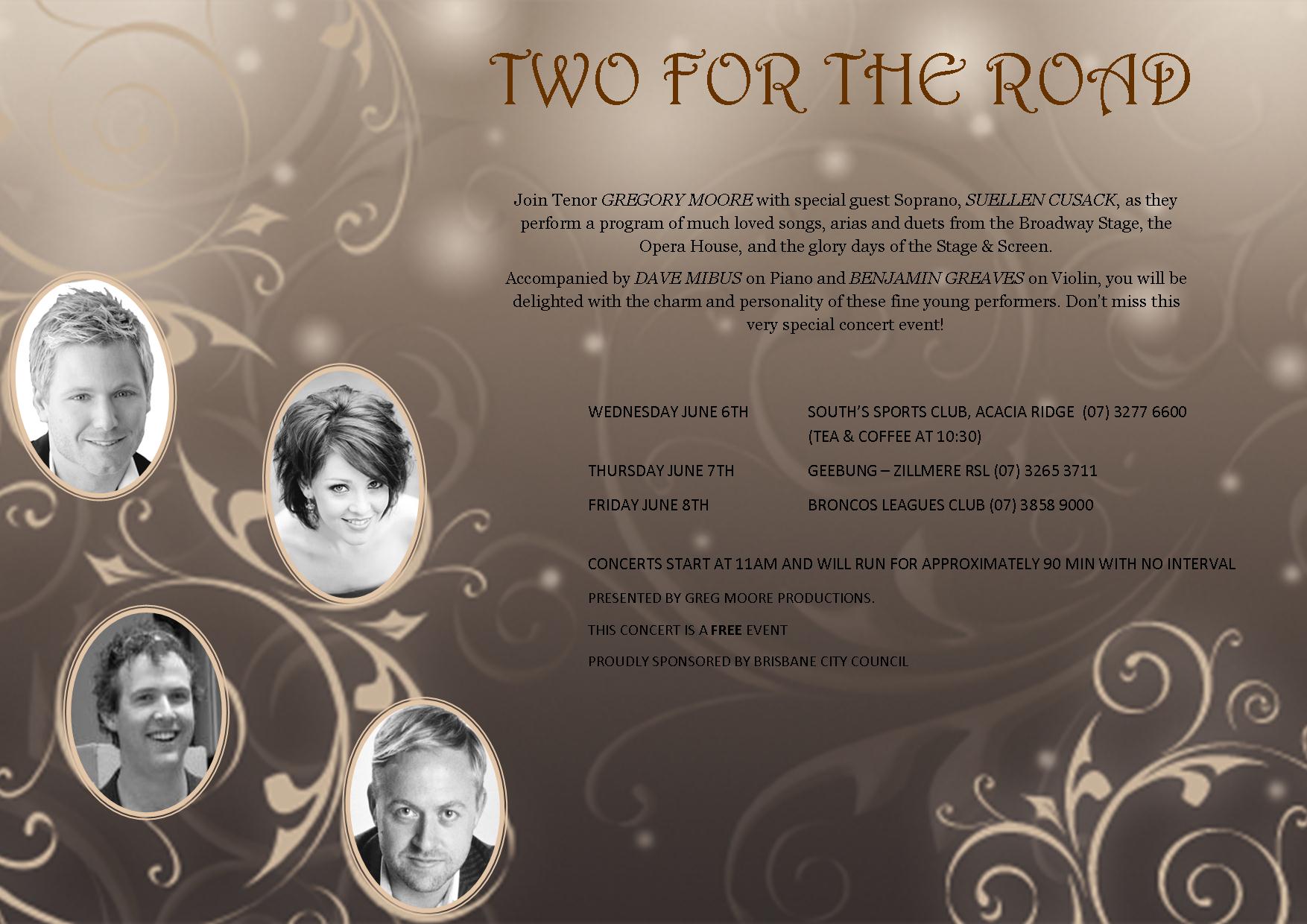 The Christmas Season 2011
Gregory will be a special guest performer at this years BCC Lord Mayor's Senior's Christmas Parties


VENUE
The Auditorium, RNA Showgrounds

SEASON DATES
Monday 5 – Friday 9 December (10.30am & 1pm daily)

More details coming shortly!

Christmas In The Queen Street Mall
Sunday December 11th

Shows at 12pm, 1pm & 2pm

Queen Street Mall Stage, Brisbane
Army Band Christmas
Greg will join the Australian Army Band Brisbane for the Governors Carols by Candelight at Government House in Brisbane

This event is INVITATION ONLY

BACK BY POPULAR DEMAND!
Greg will once again take to the stage at the Tewantin Noosa RSL


Saturday October 1st

Gregory Moore - Live in Concert
Tewantin Noosa RSL
Doors Open 7pm
FREE Showcase
For More Information, please visit www.noosarsl.com.au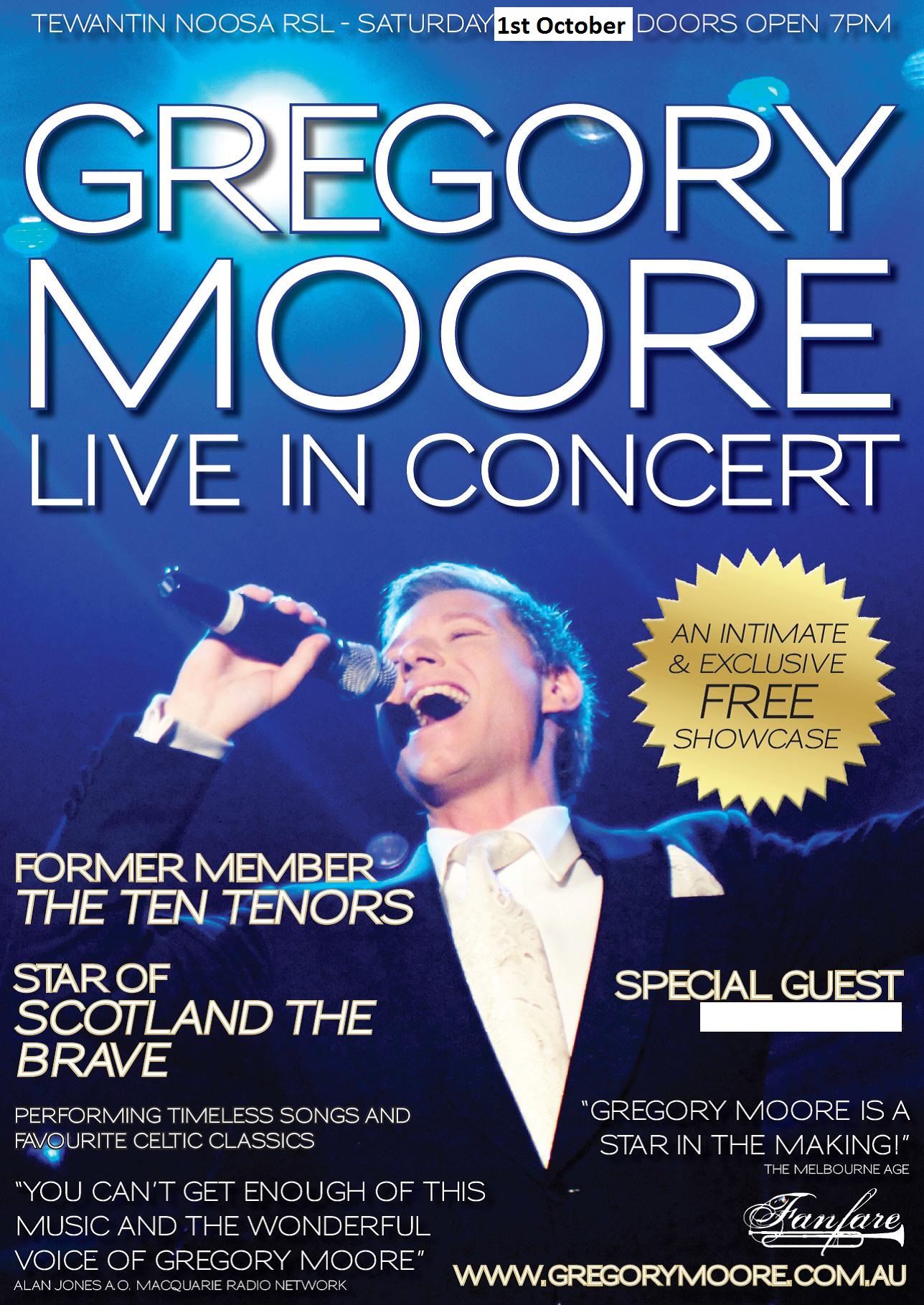 2011
May 14

QLD Pops Ochestra Concert - Celtic Celebration
QPAC Concert Hall
2pm & 8pm
Bookings through QTIX 136 246 www.popsorchestra.com.au

May 21

Gregory Moore - Live in Concert
Tewantin Noosa RSL
Doors Open 7pm
FREE Showcase with Special Guest Nigel Silcox
For More Information, please visit www.noosarsl.com.au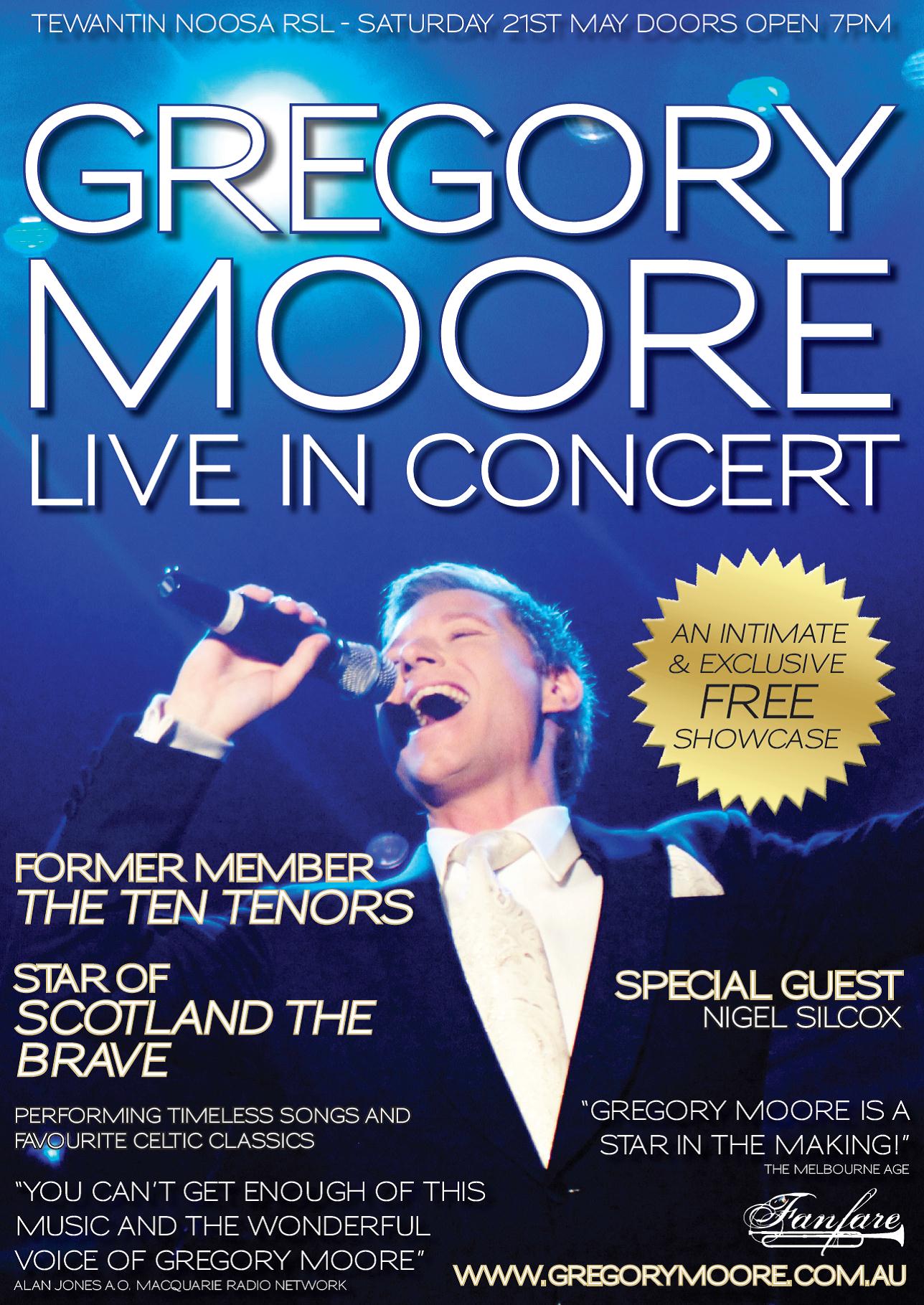 June 5

Queen Street Mall Showcase - Free
Queen Street Mall Stage - Brisbane
First show at Midday
July 17
Queensland Music Festival
qmf.org.au/index.php/component/jevents/icalrepeat.detail/2011/7/17/108/-/ailan-kores
August 20
Dinner With The Stars 2011
Mater Fundraiser Dinner
To Book a Table Please Contact: Terrie Cetinich Ph: 0400 355 765 or cetinich@powerup.com.au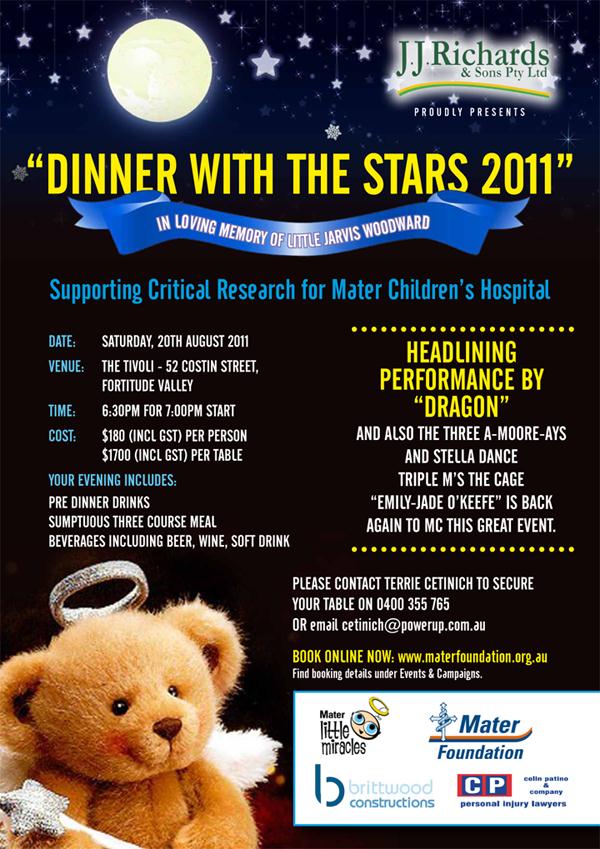 2010


Scotland The Brave - 2010
Dec 11 - The Canberra Theatre, Canberra, Australia (2pm & 8pm)
see: www.amckinnon.com.au


An Intimate Evening with Gregory Moore and Friends.
Gregory Moore, former member of The Ten Tenors announces a one night only intimate concert event.
Gregory Moore, star Tenor of Scotland the Brave, will perform songs from his album "I've Dreamed Of You" at the Brisbane Powerhouse on Saturday 30th October. The evening will include performances of classic and romantic Celtic songs such as You Raise Me Up, Danny Boy and the wonderful title track I've Dreamed Of You.
The audience will also be treated to a sneak debut of Gregory's new single, Don't Save It All For Christmas Day, written by Celine Dion from his upcoming Christmas album, "The Christmas Gift". The album will be released exclusively through David Jones nationally on November 1st and is a charity fundraiser for The Children's Cancer Institute Australia.
Special guests at the concert include Brisbane Soprano Suellen Cusack and Internationally renowned Pianist, Bernard Walz with the Gregory Moore Ensemble. This intimate concert will delight audiences of celtic music, classical music, romantic songs and showstoppers.
This performance will be filmed for a premier television broadcast on Ovation Channel (available on FOXTEL and AUSTAR on Channel 134), to be screened on the 9th December at 6.30pm, repeated on the 19th December at 6.30pm, and again on the 28th December at 7.30pm. To subscribe to Ovation please call 1300 682 846.

WHEN: Saturday 30th October 8.00pm
WHERE: The Visy Theatre, Brisbane Powerhouse,
COST: $37.00 inc GST and booking fee.
Concession and group bookings of
ten or more, $32.00 inc GST and booking fee.
BOOK: Visit www.brisbanepowerhouse.org
or phone 07 3358 8600.
Gregory Moore performs for ABLE Australia
Able Australia is excited to re-launch The Australian Charity Wine Auction in 2010 and celebrate its 12th year of partnership with the Australian Wine Industry.
Able Australia is a leading support and service provider in Victoria and Tasmania for people living with multiple disabilities, including deafblindness. The Able Australia Vision is to create a community where the people they support are seen, heard, respected, valued and connected.
Date: Friday 1 October 2010
Time: 7.00pm – 12.00am
Venue: Leonda by the Yarra, Hawthorn, Victoria
Price: $175 per head (Tables of 10 - $1,700)
Dress: Black tie
This all inclusive evening includes :-
· Canapes on arrival
· Fantastic auction items - Silent & Live
· 3 course sumptuous dinner including beverages
· Entertainment by outstanding Tenor - Gregory Moore,
Orchestral Quartet, and amazing covers band ONE
For more details or for bookings please contact Gary Daly, Events Coordinator - Able Australia
E: gary.daly@ableaustralia.org.au or T: (03) 986 16255 for further information or to book and purchase your tickets.
HATS OFF BrizVegas 2010
August 23 - The Playhouse Theatre, QPAC, Brisbane, Australia

Oz Showbiz Cares/Equity Fights AIDS will present the gala
fundraising concert HATS OFF BrisVegas. The concert will
feature a dazzling line-up of local and interstate artists
who will all donate their services for this special cause.

Proceeds to benefit The HOPE Fund to assist people living
with HIV/AIDS in Queensland.



St Lucia Orchestra - presents 'Filmharmonic'
August 22 - Show at 2pm
Kedron-Wavel Services Club, Brisbane, Australia
375 Hamilton Rd, Chermside


August 29 - Show at 2pm
Schonell Theatre, The University of Queensland, Brisbane


Gregory Moore - Encore'
On Sunday August 15 Gregory will be performing live on Centre Stage in the Queen Street Mall. If you missed his special Mother's Day performance (or loved it so much you want to see more) then come along on the 15th to see Gregory perform songs from his new album "I've Dreamed of You".

This event is FREE and there will be 3 performances throughout the day. It is certain to be a popular event some come along early to be sure you get a good spot - limited seating will be available.

Gregory's new album will be available on the day and he will be staying around to sign copies, so come on down and join in the fun.

Sunday August 15 - 11:00am, 12:30pm and 2:00pm

Centre Stage, Queen Street Mall, Brisbane, Australia

KINDLY SPONSORED BY BRISBANE MARKETING
More - More - Moore
A Greg Moore Productions Presentation
Gregory will be joined on stage by his brother Graham (Outback Spectacular 1 & 2, Isn't it Romantic) and his sister in-law Venessa (Isn't it Romantic) for this one off special Morning Tea concert.
This show will be featuring hit tunes, classic ballads, and some songs that will be sure to bring a tear to your eye, and put a smile on your face.
Gregory will also be performing songs from his new album "I've Dreamed of You" which will also be available on the day. Ask him nicely and Gregory will be very happy to sign a copy for you.
Thursday July 29 - 10:00 am
Moorooka Bowls Club, Koala Road, Brisbane, Australia


ABC Store Cairns Australia - Opening Celebrations
Gregory Moore has been invited to be a Special Guest at the opening of the new ABC Store at the Cairns Central Shopping Centre. The store officialy opens on Saturday July 17 and is sure to be a grand event.
Gregory will be giving a special performance to help celebrate the occasion which will take place on Centre Stage at 12:30 on the day. This will be a free event and is sure to be popular so make sure you come along early to get a good spot to see this wonderful performance.
After the show Gregory will be staying on to sign copies of his new album "I've Dreamed of You" which will be available from the ABC store, located on Level 1 of the Cairns Central Shopping Centre. Purchase a copy of the album on the day and receive a free poster as well.

Saturday July 17 - 12:30 pm

Centre Stage, Cairns Central Shopping Centre,
Cnr Mcleod and Spence Streets, Cairns, Australia


'Dinner with the Stars' - Mater Foundation Charity Dinner
Enjoy a three course meal and great entertainment, with the '3 A-Moore-A's.

See Gregory Moore in this special One Night Only event when he is joined on stage by his brother and sister-in-law, Graham & Venessa Moore, both gifted performers in their own right.
This fantastic annual Mater Charity event held on the beautiful rooftop of Brisbane's Rydges Southbank Hotel will also include a guest appearance by the talented Katie Noonan.
So come along to 'Dinner with the Stars 2010' and help raise money for neonatal and paediatric research at Mater.
August 7 - Rydges Hotel Southbank, Brisbane, Australia
For more details please visit:
www.materfoundation.org.au/Events-and-Campaigns/Current-Events.aspx

Mothers Day Concert
May 9 - Centre Stage, Queen Street Mall, Brisbane, Australia
Scotland The Brave - 2010
Presented by Andrew McKinnon Concert Presentations
May 1 - The Concert Hall, Sydney Opera House, Sydney, Australia
May 8 - Hamer Hall, The Arts Centre, Melbourne, Australia
June 5 - Perth Concert Hall, Perth, Australia
July 3 - The Concert Hall, QPAC, Brisbane, Australia
2009
BCC Lord Mayor's Senior's Christmas Parties 2009 - A Christmas Gala
December 7 to 11 - City Hall, Brisbane, Australia
IGA Lord Mayor's Carols in the City
Greg will join Pop Opera trio La Forza for this annual Christmas event
December 5 - The Riverstage, City Botanical Gardens, Brisbane, Australia
·
Army Band Christmas Concert featuring La Forza
Conducted by Major Peter Thomas
Greg will join Pop Opera trio La Forza as they welcome the Christmas season with the Australian Army Band Brisbane.
December 1 - City Hall, Brisbane, Australia
Handel's Messiah
November 27 - St. John's Cathedral, Brisbane, Australia
Queensland Pops Orchestra presents 'Celtic Fantasy'
October 24 - The Concert Hall,QPAC, Brisbane, Australia
·
Barrier Reef Orchestra presents 'Last Night of the Proms'

with Gregory Moore, guest Soprano Suzanne Kompass
& The Townsville Oratorio Choir
October 10 - Civic Theatre, Townsville, Australia
Scotland the Brave - 2009
Presented by Andrew McKinnon Concert Presentations

April 3 - Roy Thomson Hall, Toronto, Canada
April 9 - Avery Fisher Hall, The Lincoln Centre, NY, USA

2008
BCC Lord Mayor's Senior's Christmas Parties 2008 - A Christmas Gala
December 8 to 12 - City Hall, Brisbane, Australia

IGA Lord Mayor's Carols in the City
Greg will join Pop Opera trio La Forza for this annual Christmas event
December 6 - The Riverstage, City Botanical Gardens, Brisbane, Australia

Army Band Christmas Concert featuring La Forza
Greg will join Pop Opera trio La Forza as they welcome the Christmas season with the Australian Army Band Brisbane
December 3 - City Hall, Brisbane, Australia

QPAC Christmas in Concert
November 27 to 29 - The Playhouse Theatre, QPAC, Brisbane, Australia

Handel's Messiah
November 15 - Brisbane, Australia


Police Pipes & Drums in Concert
June 27 - City Hall, Brisbane, Australia


Queensland Pops Orchestra
May 17 - The Concert Hall, QPAC, Brisbane, Australia


Army Band in Concert
May 13 - Logan Entertainment Centre, Brisbane, Australia


·
Scotland The Brave - 2008

Presented by Andrew McKinnon Concert Presentations


February 9 - Perth Exhibition and Convention Centre, Perth, Australia

July 19 - Wellington, NZ
2007
Surf 'N' Symphony with The Queensland Orchestra
September 9 - The Riverstage, City Botanical Gardens, Brisbane, Australia


·
Scotland The Brave - 2007
Presented by Andrew McKinnon Concert Presentations
March 17 - The Concert Hall, Sydney Opera House, Sydney, Australia
April 28 - ASB Theatre, Auckland, NZ
June 16 - Roy Thomson Hall, Toronto, Canada
June 17 - Hamilton Civic Centre, Hamilton, Canada
June 30 - The Concert Hall, QPAC, Brisbane, Australia

July 13 & 14 - Hamer Hall, The Arts Centre, Melbourne, Australia
XXX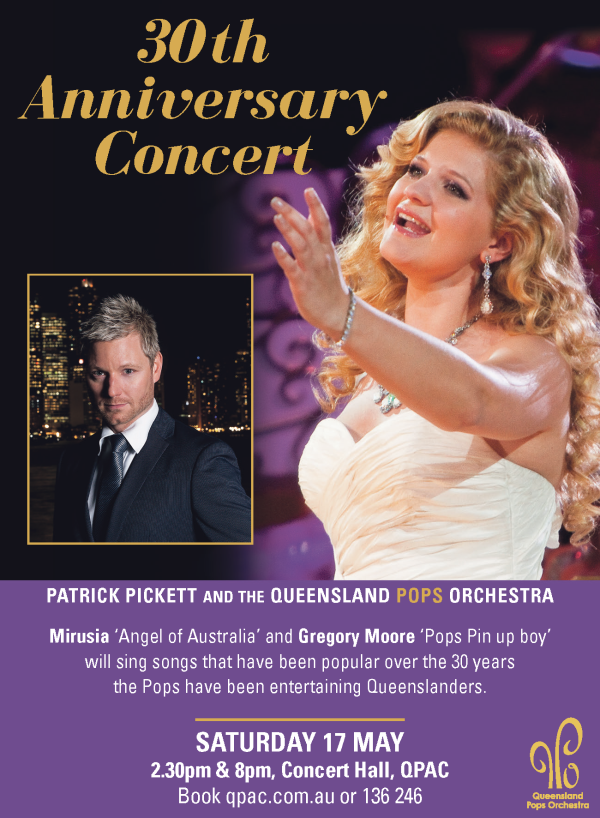 XXX
XXX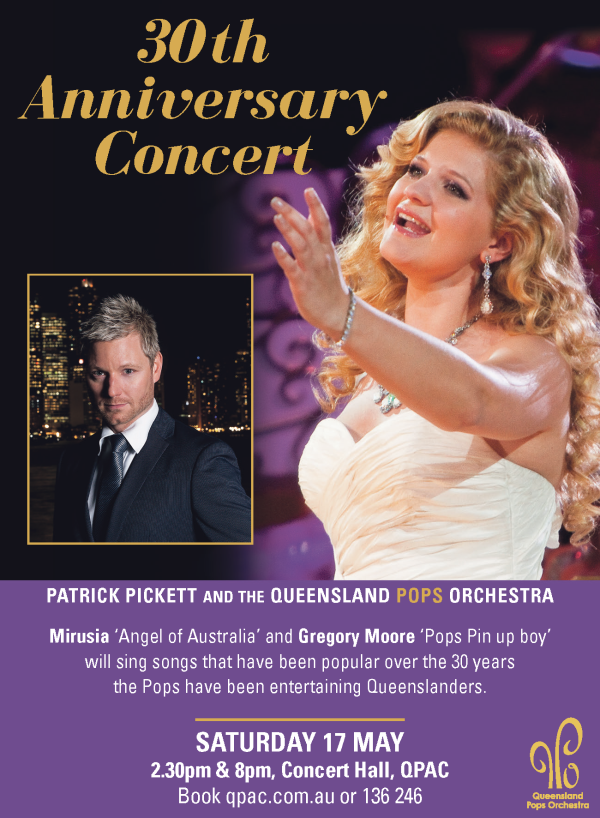 XXX